Small Business Email Marketing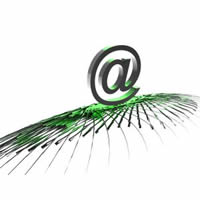 How do you communicate with your customers? If you're like most businesses, you use traditional advertising methods to reach your audience. These traditional methods, such as coupon mailers (ValPak, etc.), newspaper and radio are expensive and untargeted. Thousands may hear or see your message, but only a fraction are interested. What's more, once they throw away the ad or turn off the radio, there's a high probability they'll forget about your message.
Small business email marketing allows you to communicate with your existing customers and build pre-sales relationships with potential customers. By building an email list, you automatically have an audience that is interested in your message. That means a higher return on investment and more repeat business.
Email marketing is one of the largest missed opportunities in small business today.
Building Relationships and Growing Your Business
Many small business owners are under the mistaken impression that email marketing is just for the "big boys" with million dollar advertising budgets (like Staples, Best Buy, Macys, Amazon.com, etc.). That couldn't be farther from the truth. The "big boys" know email marketing works, and spend copious amounts of money on it. With the latest internet services, you can have an email marketing program just like them for a small fraction of the cost.
Emailing your customers helps you compete in the marketplace and allows you to communicate with them on a more personal level. You can use email to let your customers know about special offers, weekly sales and new products or services. But that's just the beginning.
Smart business owners know that building solid customer relationships means more than just advertising to them. It means making your emails connect on a personal level as well. You can use your email list to inform customers about positive contributions your business has made to the community, or charitable work in which your business is involved. Most importantly, you can give them useful information that is relevant to your products or services. This shows that you care about their satisfaction with your products, services and business overall. It also shows customers that you don't just see them as walking ATM machines.
Email marketing done right can be a fantastic way to increase sales. However, done incorrectly, it can alienate customers and drive them into the arms of your competition. Hylidix can help you set up a profitable and affordable email marketing program. Let us design the perfect campaign for your business that keeps customers coming back to your business again and again.
Contact Us Today and Let's Get Started!
Using Autoresponders to Attract New Customers
A rapidly growing pre-sales technique is to offer prospects an incentive to see what your business is all about. We've probably all experienced this form of advertising at the grocery store or mall food court - free samples. You get a taste of free food in hopes that you will purchase the meal. This is a proven marketing technique that drives up sales for very little cost. But until recently, to make this work you had to have a product that you could give away in bite sized pieces.
Using the benefits of the web, virtually any business can offer incentives that entice new and interested subscribers to join their email list. The type of incentive varies depending on the product or service you offer. There are a number of different incentive possibilities, all with their individual strengths. Hylidix can help you choose the right incentives to offer potential and existing customers. We will work with you to develop the best incentives to draw in customers from your market area and target audience. Contact Us Today and Let's Get Started!
Autoresponders

An autoresponder is a software service that allows you to automate email sign-ups and distribution. A high-quality autoresponder service ensures your mail gets delivered and allows you to manage a large mailing list with ease.
Relationships
Email communication done right can build relationships with your customers and encourage repeat business. Keeping your customers informed of special offers and new products, or sharing relevant information and business news are ways to keep communication channels open.
Incentives

One way to entice customers and potential customers to join your email list is to offer them something for free. You can use information or a special reward.
Tags: email marketing, small business email marketing, b2b, b2c, email marketing, email advertising, autoresponder