Create a Powerful Online Presence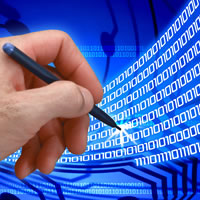 Build Your Business Website the Right Way
Your Business or Organization's website development has many aspects. It's not just a page of pretty graphics! A professionally developed website consists of multiple components including design, graphics, navigation, programming, databases, user functionality, search engine optimization, legal compliance, and visitor interactivity.
Failure to implement a carefully planned and developed website can result in less than optimum results. Hylidix is well versed in the intricacies and fast-paced technological advances involved in website development. Our knowledge, expertise and experience produce the results our clients need.
Our graphics department creates stunning imagery that captures the eye to communicate and solidify your message. Hylidix specializes in cutting edge websites that communicate with your visitors and add that "cool" sophistication your customers will notice and respond to.
Intuitive navigation on your website is another critical component in providing visitors with a satisfying experience. We approach web design from the ground up, keeping ease-of-use and navigation within your website at the forefront every step of the way. Contact Us Today and Let's Get Started!
Search Engine Optimization (SEO)
Hylidix has specialized in developing websites that are search engine friendly for almost a decade. Effective search engine optimization is a two-fold process that involves both on-page and off-page factors. We utilize diverse, specific coding methods within your website to maximize your website's appeal to search engines. We can also manage the off-page factors that directly impact search engine ranking, such as how other websites link to your website.
Hylidix specializes in optimizing websites for local search. Local Search optimization is a key factor that brings actual customers right through your business's doors! Be found right when customers are looking to buy. Local Search can have the dramatic effect of increasing your walk in traffic.
Google, Yahoo, MSN/Bing and other search engines continually change the way they determine which websites achieve top search engine rankings. SEO is a website component best handled by knowledgeable experts who understand the diverse factors behind search engine ranking. Learn more about how we approach and manage this rapidly changing technology to your advantage. Learn More
Customer Experience: Turn Browsers Into Buyers
The Internet provides your business or organization with a unique opportunity to communicate and grow your relationship with your customers. Your website should feature items specifically designed to enhance and support that relationship. This includes the basic elements such as clear product or service descriptions and clean navigation. It also includes enhancements that go beyond simply using your website as a static brochure. An effective business website should be a gateway through which visitors are transformed into paying customers.
Some examples are items such as a contact form that allows your customers to easily reach you, a well-designed Frequently Asked Questions section that answers 90% of support queries, or a double opt-in email list you can use to provide customers with information and knowledge on your products and services. You can even utilize social websites such as Twitter and Facebook to enhance your customer relations.
These are just a few technological tools that can give you a competitive edge, promote positive customer experiences and generate more sales. Contact Us Today and Learn More
Interactive Content
Online visitors today expect and rely on website interactivity to provide information and help them discover how you and your products fill their needs. Whether you need a simple contact form that's resistant to spam, a blog to keep customers up to date on your business's latest news, a fully interactive shopping cart or you'd like to provide your visitors with a protected membership area, Hylidix can help you achieve your business goals.
Interactivity also means connecting with customers and potential customers on the internet beyond your website. Social media can provide your business a way to reach customers through internet communities like Facebook. Think of it as word of mouth at the speed of light. Hylidix helps you take full advantage of social media tools to position your business in front of the enormous internet community. Contact Us Today and Let's Get Started!
Legal Compliance
The California Online Privacy Protection Act of 2003 (OPPA), effective as of July 1, 2004, created strict new laws regarding privacy policies on websites. Neither the web server nor the company that created the web site had to be in California to be under the scope of the law. The web site only had to be accessible by California residents. Additionally, many online portals through which commercial sites may advertise or otherwise be promoted, including Google, have adopted these rules.
In December, 2009, the Federal Trade Commission enacted new regulations that reinforced OPPA and the Children's Online Privacy Protection Act (COPPA). These regulations also changed the requirements for testimonials, refund policies, connection to advertisers, service disclaimers and other website disclosures. According to the FTC, "Violations of some Commission rules also could result in civil penalties of up to $16,000 per violation," as well as expose businesses to additional civil liabilities.
The average small business website is not in compliance with current state and federal Internet laws. Is your website one of what some analyses state as nearly nine out of ten that fails this critical test? Contact Us Today for a Free Compliance Evaluation
Anti-Spam Contact Forms
Is your business inundated by SPAM email? Are you tired of sifting through unsolicited prescription drug emails, email with virus attachments or scam "phishing" emails designed to trick you into revealing sensitive information to criminals? Hylidix has the expertise to dramatically reduce the amount of junk email you receive.
An anti-spam contact form provides a convenient way for customers to contact you directly from your website without having to take the additional step of using their own email. It also protects your business against email harvesters used by scammers and SPAM-ers to steal your email address and use it to send you junk and email that could damage your critical business data. Contact Us to Learn More!
Branding

Whether your business has been established offline for years or whether it is a new business altogether, the design of your website must coincide with your overall brand image and sales goals.
Website Design

The average visitor takes 1-5 seconds to decide whether to stay on a web page or move on. This is why it's absolutely critical that your website has a professional look and clean navigation. Equally important is the need for your home page to instantly convey your business's message and how your product or service can solve your visitor's problem.
Keywords

Keywords reflect the overall focus of a webpage because that is what a person would type into a search engine to find your page. Keywords are the words designed into each page of your website by the author so they get picked up by search engines.
Website Traffic

Driving traffic to your website is only half the battle. To really experience success with your website, you need to get those users to stay on your site. When your users stay on your website, you can expect positive results.
Tags: web design, consulting, small business website design, web development, website compliance, email contact form