SEO: Top Search Engine Ranking For Your Business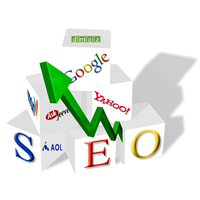 Search Engine Optimization Done Right Can Substantially Increase Sales
Businesses that watch trends and then position themselves for maximum returns are the same businesses that are growing, even in market downturns. Your ability to position your business at the forefront of today's trends can catapult you ahead of the competition. You can leap frog and leave behind those businesses that are stuck doing things the same old way they have for years!
More and more small local businesses owners are starting to catch on to the Internet's potential to grow their businesses, take competitors' customers and add brand new revenue streams they never imagined existed.
Today, more and more "pre-customers" searching for information are finding those big, heavy Yellow Pages directories too cumbersome, inconvenient and limiting. Even ignoring their overwhelming bulk... which Yellow Pages should you look in for the information you need? Many homes receive at least two different jumbo-sized phone directories each year as well as one or more smaller local phone books.
The fact is... it's so much easier for everyone to search for information online!
Based on 2009 figures, nearly all consumers (97%) now use the Internet as an information source when shopping locally for products and services. The antiquated phone book is now used only 20% of the time - and that number is steadily dropping by about 5% per year. Industry analysts believe the printed Yellow Pages will all but disappear within 5 years. Clearly today, tomorrow and in the future, your business's search engine ranking is more critical than ever.
There's one crucial point to remember about people doing business searches online: They are buyers searching for places where they can purchase goods or services they know they want. Why not make your business the one where they spend that cash? Contact Us Today and Learn More.
Search Engine Optimization (SEO) Strategies
Depending on your business's target market, products and services, there are alternative and complimentary methods that can guide your search engine optimization strategies. For example, if your customers are typically walk-in local customers, focusing on Local Search ranking and making your website mobile compatible makes the most sense. But if you sell products or services to buyers nationwide or even globally, your marketing approach should focus on general search engine results.
Local Search Engine Optimization
Do you operate a local retail establishment, a food/drink/entertainment business that serves your local community, or are you a local service firm such as a plumbing contractor? If so, the number one thing you can do to grow your business today is have Hylidix optimize your search engine listings in Google, Yahoo, Bing, and several other local search directories. We can optimize your listings using social media, images, your existing videos, maps, and descriptions that will put your business at the top of local search listings.
Whether your next customer is driving around trying to find a place to eat, or it's a homeowner jumping online to find a plumber fast, you'll be right there when your future customer is ready to buy!
Search Engine Optimization
Having your website listed on the first page of Google search results can make a dramatic difference in the amount of traffic visiting your website. The challenge is Google, Yahoo, and Bing change their search result algorithms almost daily. This means no one can guarantee you a number one listing for the most popular search terms forever!
The key to SEO success is to provide the search engines with what they want, and it isn't just about search terms that are in high demand. It's about properly coded websites with Google sitemaps. It's also about content that's so incredible, hundreds or even thousands of other websites link to your website because you're the "authority" on a particular search term.
Successful Search Engine Optimization or SEO involves both on-page factors as well as off-page factors, and it's a science Hylidix can help you navigate successfully. Contact Us Today and Let's Get Started!
SEO

SEO stands for Search Engine Optimization, which is the practice of designing your website in a way that is ideal for search engine scanning. When a search engine scours the Internet for matches on a keyword or phrase, there are many factors that go into its ranking system. The websites that rank highest will appear first in the search results. You want your website at the top of that list for the keywords your target audience is searching.
Keywords

The more prominent the keyword, the better it will be picked up by search engine spiders. Having a keyword in your URL, your headlines, titles, article summaries, etc. will do great things for your page rank.
Linking

Search engines give great weight to web pages that have links on keywords than to those that simply contain the keyword within the text. They also look for sites that have incoming links from other high ranking sites.
Tags: SEO, search engine optimization, local search engine optimization, increase Google ranking, local business SEO, Free SEO evaluation, local search