Create a Powerful Online Presence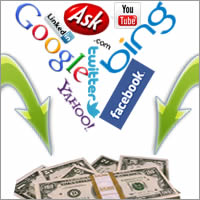 The key to successful online marketing is to have your business's information appear exactly when current and potential customers are searching for a solution. Internet marketing is very different from a shotgun approach that delivers your marketing message to thousands who have no interest in your product or services. Unlike traditional marketing such as radio or print, Internet marketing allows you to focus your marketing dollars precisely on your target market.
Newspaper, ValPak, radio, and Yellow Pages advertising is rapidly declining in value. Fewer and fewer people use the Yellow Pages, read newspapers, look at junk mail or even listen to the radio. As their audience gets smaller, these companies have to raise their rates in order to stay alive. Higher costs and fewer viewers are bad news for local businesses all around. These mediums are also completely untargeted. These forms of advertising can cost thousands of dollars because of their wide distribution.
But what good is it, for example, if a vinyl siding company gets their ad seen by 2000 renters who all live in brick apartments?
Part of a successful marketing strategy with a high return on investment (ROI) is a low cost per lead. It all comes down to targeting the right audience - the audience that is interested in what you are offering.
Search Engine Marketing
Search engine marketing allows your business to be seen when customers search for keywords related to your product or service. For them to see your ad, it costs you nothing. You only pay when a potential customer clicks on your ad - that is the pay-per-click (PPC) or purchased traffic advertising model. If you have ever searched the web using Google, Yahoo!, MSN/Bing or Ask.com, you have seen PPC ads at the top and along the side of the search results.
Imagine you were able to spend $100, and as a direct measurable result you were able to sell $400 of product and achieive a net profit $200 after costs. Would that be a good investment on your part? I think most of you would agree that would be a good ROI. That is essentially what pay-per-click traffic is all about. You spend X amount of money, and it results in Y amount in sales. As long as you are in the black after expenses, purchased traffic is a very profitable marketing model!
Hylidix can manage profitable pay per click campaigns for your business or organization. We keep a very close eye on our clients' ROI. We succeed by eliminating search phrases that don't work and concentrating on search phrases that maximize returns. If you have a great product and a highly converting website, pay per click marketing can open up a multitude of new marketing channels for your business. Contact Us Today and Let's Get Started!
Facebook Marketing and Twitter Marketing
Facebook is the second most popular website on the internet (Google is number one). It has 500 million users, 50% of which log on each day. Tapping into this enormous customer pool can expose your business to scores of new potential customers and be extremely lucrative. Facebook advertising is based on the pay-per-click model just like the search engines. Both allow you to target your audience geographically. Instead of using keywords to determine who sees your ad, Facebook uses user demographics. This is a huge advantage in that you can target your advertising based on age, gender, education level, marital status and personal interests.
Twitter is another social media phenomenon that you can use to gain exposure for your business. As of June, 2010, Twitter reported 190 million overall users and 65 million tweets (140 character messages) per day. The goal here is to gain "followers" (people subscribed to receive your Twitter messages) and "tweet" messages to them. This builds a relationship with existing customers and attracts new ones through social networking. It's like word of mouth at the speed of light.
Hylidix can help you create and manage a successful social media presence that attracts business. Whether you want to reach out to new and existing customers through Facebook or keep them updated via Twitter, we enable you to harness the power of the crowd and bring them to your business's doorstep. Contact Us Today and Let's Get Started!
Website Analytics
Properly managing a marketing campaign, or even your general web presence, requires tracking and data analysis. How do you know if a campaign or a website is successful if you can't quantify its results? Hylidix will help you use the latest internet technologies available to show you measurable results.
Website analytics and ad tracking allow you to see the number of visitors to your website down to the individual web page - including what site they came from. You can track the performance of each one of your advertisements down to the amount of clicks - and even the number of times it was seen and not clicked. This enables performance analysis of practically all of your business's online efforts. If you are doing search marketing or social media advertising, analytics are essential to maintaining profitable campaigns.
Mobile Phone Marketing
Smartphones now outnumber personal computers 4 to 1. It is predicted there will be 140 million Smartphone users in the US by the end of 2011 (Nielsen). A full 33% of mobile searches are for local information (Google). Do you see a pattern? Mobile devices are booming right now and there is no end in sight.
Do you have a mobile website that is compatible with Smartphones? If you are like most local business owners, the answer is probably "no". If not, there are huge amounts of potential customers that you are not reaching.
Hylidix can help get you positioned on the mobile web. We can create a custom mobile website for your business so you can tap into this immense and growing customer source. But we don't stop there! We can help you advertise directly to your mobile customers via text message. Did you know that most text messages are looked at immediately? By offering special promotions and advertising to mobile subscribers, you can build stronger customer relationships and attract the "always on the go" set right to your front door. Contact Us Today and Let's Get Started!
Search Marketing

Search Engine Marketing (SEM) revolves around getting your ad shown when potential customers are searching for your products or services. This pay-per-click (PPC) model means you only pay when someone clicks your ad and visits your website. Common SEM / PPC providers include Google Adwords, Yahoo! Search Marketing, Bing Search Marketing, Ask.com and even Facebook.
Facebook Marketing

Facebook has over 500 million active users, 50% of them visit the site on any given day. Making your business visible to this audience can be very profitable for your business.
Website Analytics

To have a successful marketing campaign, all results must be tracked and measured. Otherwise, how do you know its performance? Web analytics allow you to track down to the click. You can't do that with a newspaper ad!
Tags: Internet marketing, local internet marketing, small business, consultant, pay-per-click (ppc), Facebook advertising, Social Media, Twitter