About Us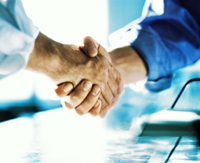 Hylidix was founded in 2009 to help local businesses use the internet to increase revenue and attract more customers. Unlike many search engine optimization, small business website design and internet marketing firms, we have no fixed packages or rigid development programs. Instead, we work with each business on an individual basis to determine which tools and services would most strongly benefit their unique needs.
At Hylidix, we understand that every business is different - from your customer base and market segment to your sales goals and desired geographic reach. What works for a local drycleaner may not be the right fit for a machine shop. Our primary job is to help you reach the right people and meet your business goals using the power of the web.
Customer Satisfaction
We firmly believe that the only way for us to succeed in our business is for our customers to succeed in theirs. Hylidix is fully committed to customer satisfaction. If you are not satisfied that our services have delivered, we will work with you until you are.
Measurable Results
One of the many exciting facets of working with internet technology is that everything can be tracked. Things like website visits, clicks on advertisements, search engine position and even how often customers open your marketing emails can all be measured. This allows us to provide quantifiable results to our customers and gives us the insight necessary to determine the right solutions for your business.
The web is rapidly overtaking all the old methods (Yellow Page ads, newspaper ads, etc.) of business promotion. Why? Because 88% of adults in the USA go online and use search engines to find information (Source: PEW Research). Furthermore, the web allows businesses to target their marketing efforts more efficiently thus achieving a higher return on investment.
Your local vinyl siding contractor wants their company to be seen by homeowners. Your local day care center wants to be noticed by people with young children. That's the beauty of having a strong web presence. When someone searches for vinyl siding or daycare or flowers, they are already prepared to buy. Your customer base is automatically targeted! They are just waiting for your business to appear before their eyes in the search results.
We're Here to Help!
All of our service offerings are designed to do one thing - help you grow your business. Hylidix offers search engine optimization, web development, web hosting, email marketing and internet marketing services to attract targeted leads to your website and your business's front door. We provide business consulting, logo design and branding services to give your business that extra competitive edge.
Contact Us

Do you have questions about search engine optimization or web development for your business? Would you like a free expert website consultation? Contact us at 781-850-6218 in Massachusetts, 1-866-334-3409 for the rest of the US, or use our contact form to send us an email.
Our Commitment

Hylidix is committed to customer satisfaction. If you're not satisfied, we will work with you until you are. Your success is our success!